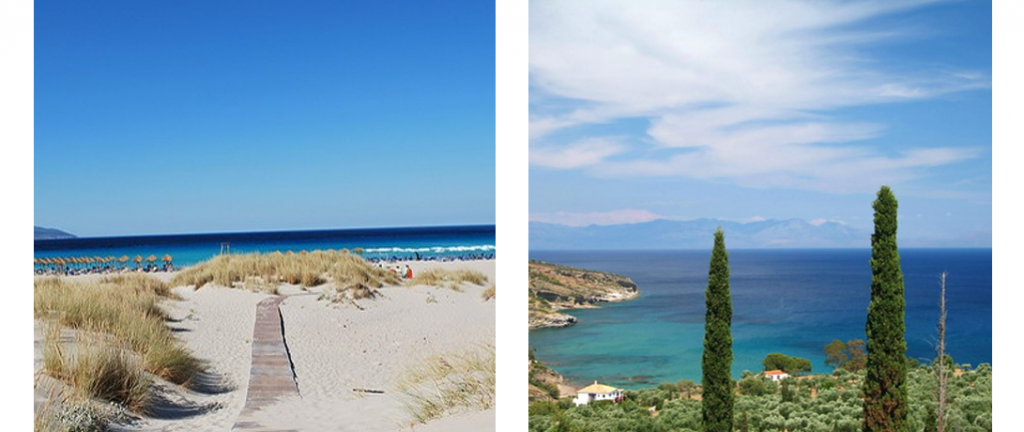 The peninsulas of the Gods: Part 1 The Peloponnese
Greece, that's Athens and its many islands- Mykonos, Santorini, Corfu, Crete or Rhodes. But there are also two very special peninsulas that under no circumstances should be left out.
True connoisseurs rave about the Peloponnese and Chalkidiki.
What do these two have in common? Apart from the shape, reminiscent of a hand, and the endless olive groves, both are excellently developed destinations with an incomparable history, culture and nature. The Peloponnese in the south and the Chalkidiki in the north are our two attractive insider's tips for MICE in Greece that we want to introduce to you in the following.
Part 1
The Peloponnese, pure luxury and nature
Ancient Olympia, the home of the Olympic Games, the theater of Epidaurus, the forge of the Greek drama and Mycenae, the birthplace of Homer's heroes, all of them are in the Peloponnese. Putting the beauty of this region in words is nearly impossible.
Thanks to its advanced infrastructure with high-class hospitality and leisure facilities, the Peloponnese is a perfect choice for international conferences in Greece. The region offers visitors a range of services for meetings, incentives and corporate events.
The airport of Kalamata in southwestern Peloponnese is served during the summer months directly from UK. The peninsula is also easily accessible via Athens all year round.
Unique places, idyllic settlements like Marathopolis or Jalowa, medieval castles, like Pylos or Methoni, surrounded by crystal clear waters and sandy beaches, unspoiled landscapes and bold cliffs constitute this part of Greece an exquisite destination that is waiting to be discovered.
Our recommendation is definitely the Costa Navarino!
This impressive resort, which consists of two resorts, the Romanos and the Westin has, inter alia, a thalassotherapy center, and its own golf course. However, the highlight is the multi-functional and versatile "House of Events", capable of hosting up to 1,700 participants on an area of 5,000m2. A dream venue for elegant gala dinners and unforgettable business events. Ideal for large groups and with many options for activities in the area, it particularly appeals to those who appreciate exclusivity.
In conclusion the Peloponnese offers an attractive package of luxurious seclusion, an exciting cultural program and great entertainment facilities as well as a compelling price-performance ratio.